YOUR HOME is a collection of things bearing the traits you cherish and strive for. Your furniture is a statement you make about yourself. It is our mission to realize unique pieces that reflect the style and character of an individual client and match the purpose and mood of a particular space. We craft custom pieces which deliver the experience and functionality expected of them.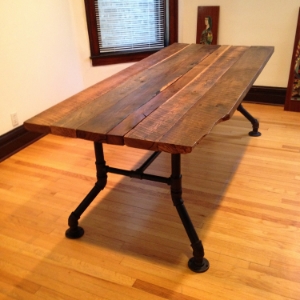 Design Consultation
We begin with a consultation to discuss the proposed piece. We want to know the piece's inspiration, style, uses, and your preferred materials. We want to be able to see your vision.
Proposal
We use the ideas discussed to generate a 3-D model of the project and produce color images of the finished piece. These serve as a blueprint for building and as a proof for your approval. If necessary, the piece's intended interior space will be included in the model to give a sense of scale. Once there is agreement on design we will submit project terms and costs for approval.
Construction
All work is done at our Chicago studio using traditional construction methods. We have access to an extensive selection of hardwoods, reclaimed lumber from 19th century barns, and metal and glass all sourced from local businesses.